Late-Stage College Funding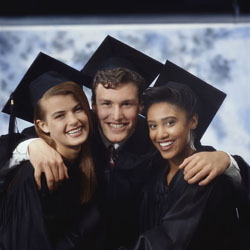 Will You Pay Retail or Wholesale for College... ?
College doesn't have to be a worrisome, frightening, uncomfortable, trying, or a troublesome time for you and your family. This should be one of the most exciting times of your child's life! And it can be.
Let us coach you through the entire college process-- everything from selecting the correct college, performing career searches, helping with preparation for SAT/ACT, maximizing your financial aid potential, and even showing you how to cash flow your financial responsibility.
Our associates have been doing this for over 18 years so you can feel confident and secure knowing that our experience, knowledge and expertise is working for you. We've helped thousands of families and students across the United States make the most of their college experience.
What is Late-Stage College Funding? It is the process of working with families that have students in high school (yes including Seniors before October 15th ) that have not saved enough to pay for college out of pocket and find themselves overwhelmed with the realities of college cost in the US. We routinely save many families $40-$60,000 (or more) over retail costs on their student's four year college education. Can you afford to miss out on college discounts just because you are listening to people who do not understand how colleges today evaluate students and families. Most families are using the same methods to fund college that they used when they attended college. The paradigm has changed dramatically and if your family is not informed is is common to disqualify for $10 to $15,000 per year or more.
Misinformation can range from the well meaning but ill informed high school counselors all the way to your financial advisor, stock broker, CPA or attorney. These folks may be experts in a specific area but that area is rarely strategic late stage college funding. One wrong misstep can disqualify a family from thousands in aid that would not require any repayment. Yes we are talking grants or discounts you have been told you make too must money to qualify for that require NO repayment! Many families needlessly become "full pay" families and are not getting substantial college discounts but could qualify for them if they were informed. These are the same families that are still using IRS Section 529 plans because of the tax free growth potential while they do not understand how their student and family will be evaluated by enrollment managers hire by colleges. Most families would gladly choose free money over tax free growth on their savings if they knew that they had the choice. Sadly they do not.
Would your family like to save thousands on college and be willing to invest an hour of your time to find out if you have that potential? Let us know, we can help.
Prepare to have your eyes opened to the current college financial aid paradigm. If you are reading this with high school students it means you likely have discounts waiting for you but have no idea how to qualify to get them. We do! You may be stunned to learn that expensive private :dream" college with the high cost of attendance may cost less out of pocket than the local public college if you know how to access the available resources.
Check out our link to College Funding Academy to find out more, then Call us at 507-433-3353 or text Todd at 612-730-1525 to set up a no obligation meeting to find out if your family has the potential to save thousands on college.